Nefab, a lead­ing glob­al indus­tri­al pack­ag­ing and logis­tics ser­vices com­pa­ny, will present at Fach­pack 2022 (Sep­tem­ber 27–29, 2022, Nurem­berg, Ger­many) com­plete pack­ag­ing solu­tions that can help opti­mize and future-proof sup­ply chains. With a focus on sav­ing resources in sup­ply chains – both finan­cial and envi­ron­men­tal, Nefab will show­case at booth no. 515 in hall 9 its recy­clable ther­mo­formed plas­tic and fiber-based prod­ucts as well as dig­i­tal logis­tics solu­tions paving a way for the econ­o­my of tomorrow.

"Tak­ing care of the world's nat­ur­al resources has always been a part of Nefab's her­itage. We have set the objec­tive to cre­ate a range of pack­ag­ing and logis­tic solu­tions to sup­port the trans­for­ma­tion of mod­ern sup­ply chains to become more sus­tain­able and envi­ron­men­tal­ly friend­ly. To set an exam­ple, by 2026, Nefab plans on sav­ing 10 mil­lion CO2 emis­sions in cus­tomer sup­ply chains", said Oscar Gest­blom, EVP Peo­ple and Brand, Nefab Group.
Going dig­i­tal saves costs
Reduc­ing the num­ber of mate­ri­als and resources need­ed to design and ship pack­ag­ing is one of many ways busi­ness­es can gen­er­ate sav­ings while min­i­miz­ing their green foot­print. An effi­cient way to reduce the use of resources is to add con­nec­tiv­i­ty to return­able flows and pools and this way boost effi­cien­cy by as much as 65%, hence con­tribut­ing to sav­ing resources in the sup­ply chains. With a broad port­fo­lio of con­nect­ed devices, Nefab can trace pack­ag­ing around the world in real time, mea­sure its tem­per­a­ture, shock, humid­i­ty and more to assure the opti­mal con­di­tions dur­ing shipment.
Anoth­er dig­i­tal tool that Nefab will present dur­ing the show is Green­CALC, a Life Cycle Analy­sis (LCA) tool that iden­ti­fies poten­tial CO2 and cost sav­ings of a pack­ag­ing solu­tion. Green­CALC looks at the total life­cy­cle of a mate­r­i­al from cra­dle to grave and cal­cu­lates the envi­ron­men­tal impact for the pack­ag­ing pro­duc­tion phase, trans­port phase and end of life.
Sus­tain­abil­i­ty refined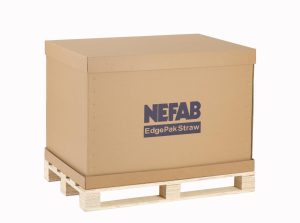 Vis­i­tors at Fach­pack 2022 can also learn how to gen­er­ate sav­ings while switch­ing to fiber-based pack­ag­ing, such as EdgePak Straw, an award­ed solu­tion by Ger­man Pack­ag­ing Awards 2022 that pro­vides stack­ing strength and easy han­dling at a low car­bon foot­print. Com­pa­ra­bly strong and mois­ture resis­tant as ply­wood, it is a reli­able solu­tion not only for light but also heavy car­go and can be used to ship prod­ucts in demand­ing sup­ply chains by road, sea, and air. Made from agri­cul­tur­al waste, it is easy to recy­cle in exist­ing paper streams and min­i­mizes the land­fill. To increase safe­ty of the work­ing envi­ron­ment, EdgePak can be han­dled and assem­bled with­out the use of nails or tools.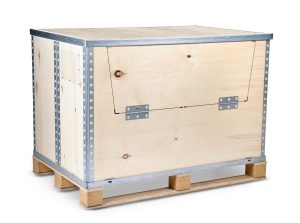 For ship­ments requir­ing stronger prod­uct pro­tec­tion dur­ing trans­porta­tion to far-away des­ti­na­tions, Nefab also offers RePak, a light­weight ply­wood box with col­lapsi­ble hinges to ensure ease of han­dling, assem­bly, and recy­cling. Ide­al for large return­able flows, the box is equipped with steel com­po­nents to rein­force its longevi­ty and strength for mul­ti­ple uses.
Com­mit­ted to change
Vis­i­tors at Fach­pack will also have the chance to dis­cov­er Nefab's new­ly launched range of sus­tain­able plas­tic pack­ag­ing, includ­ing ther­mo­formed trays and cush­ion­ing appli­ca­tions. Both made pri­mar­i­ly from recy­cled plas­tics and 100% recy­clable mate­ri­als, they are an effi­cient alter­na­tive for both one-way flows, as well as return and cir­cu­lar flows. Ide­al for auto­mat­ed lines that require pre­ci­sion pack­ag­ing due to robot­ic han­dling, they are engi­neered to be high­ly pro­tec­tive and to match spe­cif­ic prod­uct require­ments and regulations.
These prod­uct devel­op­ments are a result of two impor­tant acqui­si­tions between 2020 and 2021 – Szkalicz­ki and Part­ners Plas­tic Pro­cess­ing Ltd (Szkalicz­ki) and Reflex Pack­ag­ing (Reflex). While Skalicz­ki secures Nefab's lead­ing posi­tion in tech­nol­o­gy and engi­neer­ing capa­bil­i­ties for ther­mo­formed trays, Reflex secures Nefab's glob­al lead­er­ship in sus­tain­able cush­ion­ing solu­tions. Com­bin­ing these new capa­bil­i­ties with Nefab's glob­al foot­print, the com­pa­ny can now sup­port cus­tomers in man­ag­ing their pack­ag­ing waste and cre­at­ing a tru­ly sus­tain­able sup­ply chain.
"We can col­lect and regrind the ther­mo­form waste into raw mate­r­i­al that can be ther­mo­formed again into the same or dif­fer­ent solu­tion. This way we can increase CO2 sav­ings up to almost 60%. With a wide range of both dig­i­tal and sus­tain­able mate­r­i­al pack­ag­ing solu­tions, we are inno­vat­ing to lead the way towards a more sus­tain­able tomor­row", stressed Oscar Gestblom.
If you want to learn more, vis­it Nefab's booth no. 515 in hall 9 at Fach­pack 2022 in Nurem­berg, Ger­many, from 27th to 29th September.