Beck­'s, Coro­na, and Bud­weis­er come from Anheuser-Busch InBev, a brew­ing group, which pro­duces around one-third of the world's beer. The group's port­fo­lio encom­pass­es 630 brands, made in 260 brew­eries. The Bel­gian con­glom­er­ate employs more than 170,000 peo­ple in over 150 coun­tries – includ­ing South Africa.

AB InBev oper­ates sev­en brew­eries here, includ­ing the Pre­to­ria South African Brew­eries (SAB) site with almost 900 employ­ees. This plant main­ly pro­duces the South African beer brand Cas­tle Lite and the Mex­i­can beer Coro­na, togeth­er adding up to some 8.5 mil­lion hec­to­liters each year. To boost pro­duc­tion of Coro­na espe­cial­ly, the com­pa­ny has added a non-return­able glass line from Kro­nes. "We chose Kro­nes because of the good rela­tion­ship, com­pat­i­bil­i­ty with cur­rent equip­ment and reli­a­bil­i­ty stan­dards", says pack­ag­ing man­ag­er Theo Govender.
What makes this line spe­cial is its high speed, fill­ing 100,000 glass bot­tles per hour. It's actu­al­ly two lines run­ning in par­al­lel, each with a capac­i­ty of 50,000 bot­tles per hour. And it makes this line one of the fastest in South Africa. This design offers AB InBev a high out­put and the flex­i­bil­i­ty to han­dle dif­fer­ent beers in par­al­lel – for exam­ple Coro­na and Cas­tle Lite at the same time.
"To fit per­fect­ly in SABs hall con­cept this line is com­pact, with shared oper­at­ing areas. This allows oper­a­tors to attend to mul­ti­ple machines, there­by reduc­ing the num­ber of oper­a­tors required," explains Boris Trem­mel, Head of Key Account Sales at Krones.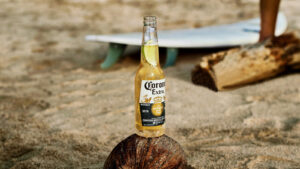 The Ergo­mod­ul mod­u­lar label­er fea­tures inter­change­able labelling sta­tions, mak­ing it pos­si­ble to switch over to the beer cur­rent­ly in pro­duc­tion. Since Coro­na bot­tles fea­ture applied ceram­ic labels, the label­er doesn't come into play here. Coro­na bot­tles sim­ply bypass it.
When it comes to pack­ag­ing, SAB also has choic­es as the line runs two dif­fer­ent pack­ers: the Var­i­opac Pro WT for wrap-around car­tons and trays and the Var­i­opac Pro PFS for shrink packs. Both are tried pack­ers for non-return­able con­tain­ers. The Var­i­opac Pro offers easy change-overs and expan­sion, so changes to pack­ag­ing con­cepts can be accom­mo­dat­ed at any time.
Anoth­er unique fea­ture is the use of the mul­ti-func­tion­al clamp­ing star­wheel Mul­ti­Gu­ide Base, a first for AB InBev. Since the top and bot­tom clamps can be opened inde­pen­dent­ly of each oth­er, it is able to secure­ly grip bot­tles with wide­ly vary­ing diam­e­ters. The advan­tage is that it does away with the need for man­u­al inter­ven­tion dur­ing for­mat change-overs.